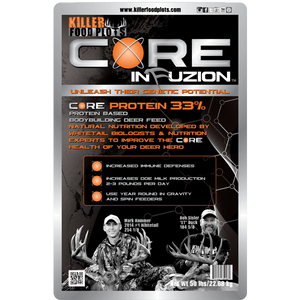 Protein-Based Bodybuilding Feed
CORE Infuzion® is designed to deliver the nutritional foundation by which Giant Whitetails are Grown! With a core protein of 33% as the foundation, this bodybuilding deer feed increases immune defenses and doe milk production by approximately 2-3 pounds per day. Begin feeding CORE Infuzion® in the spring to see results by opening day!
CORE Infuzion® is a natural based, vitamin & mineral-infused, protein-rich bodybuilding feed supplement that supports whitetail deer health by building up core defenses, supporting the immune system to fight against disease and other reoccurring bacterial triggered illnesses. CORE Infuzion® supports gut health, improved blood flow, skeletal growth, muscle and tissue development.
MIXING INSTRUCTIONS
May 15th - Nov. 15th: spring/summer 50/50 (1) 50 lb CORE Infuzion® + (1) 50 lb Corn

Nov 15th-March 1st: (1) 50lb CORE Infuzion® + (3) 50 lb Corn + (2) 50 lb Soybeans
March 1st - May 15th: (1) 50 lb CORE Infuzion® + (2) 50 lb Corn + (1) 50 lb Soybean